Looking for hairdressing Job's in Worcestershire?
Then Join Our Team!
Full and part time positions available
Are you looking for a hairdressing job in Evesham to expand your career? Then look no further!
By now, you know exactly what we mean when we say that Tracey & Hazel run a great salon.
We're all obsessed with changing lives one haircut at a time.
And we have a feeling you might be too… So, are you ready to join us on this mission?
Who are we looking for?
If you're ready to ditch your j-o-b and find yourself in a purpose-driven career…
If you're ready to take all your potential, your most profound talents and your highest skills and put them to use, making an impact in our client's world…
If you're ready to join a tight-knit group of heart-centred achievers on a mission to change the world one haircut at a time…
Team Creative might be the place for you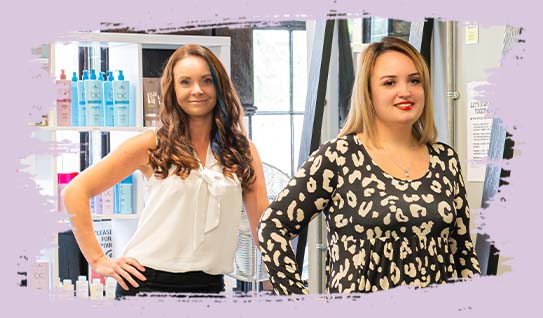 Booking Line: 01386 833397
Here's the truth: most of us spend anywhere from 40 to 80 hours a week on this thing we call "work."
Don't you want to wake up every single day knowing that your "work" is making a difference?
We're looking for the world's best hair talent to join our team – those select few who will rise to the top and be in the top 2% of applicants. 
This means we're looking for people who…
Are top performers in hair with 4+ years' experience in creating beautiful hair and growing a full and thriving column.
Are obsessed with adding massive value and contributing to the team, and clients know how to effectively cross-sell and up-sell to develop solutions for your clients.
Thrive on tight-knit teams that are built on friendly competition.
Approach new techniques with unbridled energy and a desire to grow and contribute to your team and the lives of others.
Have next-level communication skills, are confident but not arrogant, and have the profound ability and sophistication to speak with people from all walks of life and backgrounds.
Have a true passion for the Obsessions salon mission and genuinely want to serve others throughout their transformational haircuts.
Value growth, know what it's like to have your hard work pay off year-over-year and understand the economic upside that high-volume, high-ticket sales provides.
So if reading that list feels like looking in the mirror, we want to hear from you!
Talk soon,
Creative Hair Studio Team
P.S. If this isn't you, but you know of someone that would thrive in this role and this environment, we want to hear from them too! Just forward this page along to them 🙂
Great wages
There is no cap on earnings the smarter you work the more you earn.
Education
Education is super important in our culture so you will learn lots with us here at obsessions.
High Quality
High quality products and tools to make work a little more fun
Great team
We are super lucky to not only have great talented stylists to learn from but most importantly they are all incredible human beings who make the salon feel like home. Want to meet Creative's amazing team? click HERE (direct to our meet the team page)
Application Form
Full and part time positions available.
We're recruiting experienced stylists to join our salon team at Creative.
This is a great opportunity to join a small, growing company that's achieving great things yet appreciates that health and families are more important than work.
We aim to make it easy for our guests to maintain a great haircut and style it themselves at home through our salon chair education.
We do this by providing the tools and product education for each guest and continuous education for our team.
We're rated in the top 13% of salons in the UK by salon spy and are a multi-award-winning salon including the best salon in the whole of Worcestershire.
We're looking for talented stylists to help us make our salon even more successful. You'll be helping us to deliver even better guest experiences, driving a verity or services through excellent techniques and adding to our vibrant team of experts.
If you are a stylist who values quality, wants to grow by working in a small and experienced team, and in doing so, wants to help real customers to achieve their hair goals, then read on…
Who we're looking for
At Creative, we're fuelled by the passion and exceptional talent of a successful stylist. We're hungry to amaze our customers, grow the business, and continue growing as individuals and a team. But we're also focused on the quality of life of our team and as a profitable company.
Do you share Creatives values?
We're looking for people who share our values:
Championship of each other always – Everyone is doing the best they can at that moment be kind in a world that's very challenging.
It's all about the experience – It's not just haircuts were selling; it's the happiness and confidence that comes from quality expert knowledge and an outstanding service
Action speaks louder than words – If you say you're going to do something, do it.
Embrace the power of random acts of kindness – It feels good to make someone else feel good :0)
ALWAYS be growing – What you focus on, grows.
Treat people the way you would like to be treated – Ask yourself, what would love do?
Consistency of care for every guest – Every guest, every time.
Shine like a star and help others sparkle too.
Have fun, laugh, smile and dance – life's too short to be someplace lame.
Build a community that others want to join.
We don't just 'say' these are our values. We use them all the time — to recruit the right people, manage individual performance, recognize good practice, and make decisions.
Is the role right for you?
A large part of the work will be developing new skills and relationships to adapt to the ever-changing market in our industry.
We follow a stylist evolution plan to see where we can assist you in growth, continued education and continuously optimizing our processes. Your attention to detail will help us to amaze our customers and to grow our services and database in a robust and maintainable way.
The Role:
Core Competencies:
Solution-based thinking
Be part of the solution, not the problem
Complete ownership of tasks
Independence in creating beautiful hair
Autonomous
Self-sufficient
Organisational & delegation skill
Activities:
Cutting and colouring great hair
Blow-drying skills
Making notes on all clients
Customer care to the highest degree
Looking the part at all times
Hold great conversations
Conducting consultations
Going the extra mile every day
Taking pictures of your work for our social media
Listening to clients
Outcomes:
Great hair every time
In-depth well-documented notes
Building a busy column
Team player
Retention of clients
Client referrals
Client testimonials
Every problem solved
Customer to have an outstanding experience
Skills: Complete understanding of cutting, colouring, toning and perming hair Plus the added knowledge of working with natural curly hair.
Experience in product sales and upsells
Understanding of lifecycle marketing
Understanding of rebooking
Knowledge of growing a column
Innate use of social media
Desirable skills not needed but would give you the cutting edge:
Social media marketing
Reservation's knowledge
Teaching skills
Schwarzkopf product knowledge
What we're offering:
We strive to make Creative the best place to work.
We are doing this by being the best salon on the market, building a great diverse team, encouraging great work-life balance, being family-friendly, having fun, and maintaining a strong culture of continuous improvement (business and personally).
Benefits:
Competitive salary. We calculate a competitive salary that represents the typical salary. Amongst the highest guaranteed wage in the area with a commission structure to earn more.
Flexible working. You'll need set hours to collaborate with the team, but we'll do our best to be flexible so you can support your family.
Quarterly all-staff meet-ups – Great team building days out having fun.
28 days paid vacation inclusive of public holidays (dependant on working hours). We'll make sure you take them!
Paid maternity/paternity leave
Family-friendly work environment. We all understand how important family is, so we strive to understand the challenges and what helps!
Sorry guys, fur babies do not count, although we wish they did 😉